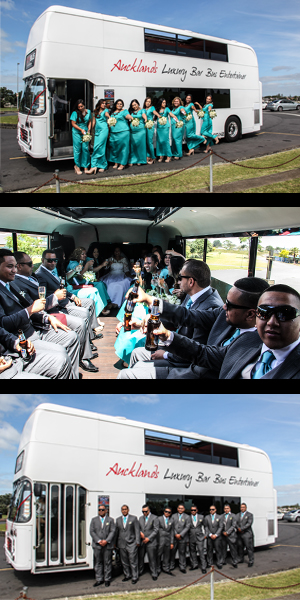 At Topbus we really do offer the most elite type of Wedding Transport available in Auckland, imagine having all your guests travelling to your wedding in absolute style with a few bubbles along the way to the big day.
Firstly no one has to drink and drive and its much safer as you the host you don't have to worry about your precious guests, we can come and pick you up during the day then return you after the party, or even one way its up to you.
With drop down windows and a sunroof thats right there sunroof in this bus, Topbus is the bus to have on these beautiful Auckland summer days, your favourite music playing along the way, and to Top it off a USB filled with pics of the prospective Bride and Groom if you wish on the huge TV screens now thats cool.
Wedding transfers are really affordable too, how does $40 pp return sound? well hey you couldn't get a taxi for that! and to add to that, you would ruin your beautiful dress getting all crumpled up in a CAB, and you couldn't have a nice glass of wine to calm your nerves.
So drop us a line, we'd love to hear from you!